This meatball pizza, made with a secret sauce, mozzarella cheese, and the surprise element of juicy chicken meatballs piled atop pizza dough, takes homemade pizza to a whole new and indulgent level. That's better than takeout.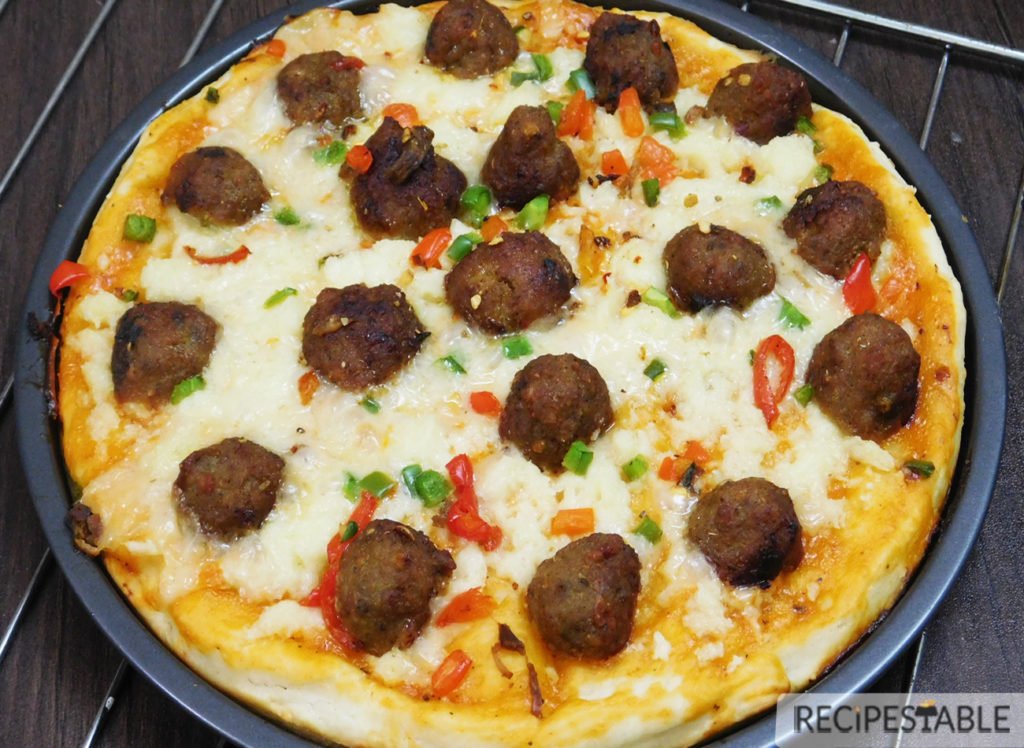 Chewy crust, spicy sauce, meatballs and plenty of melted cheese? Ummmm…. yes, please.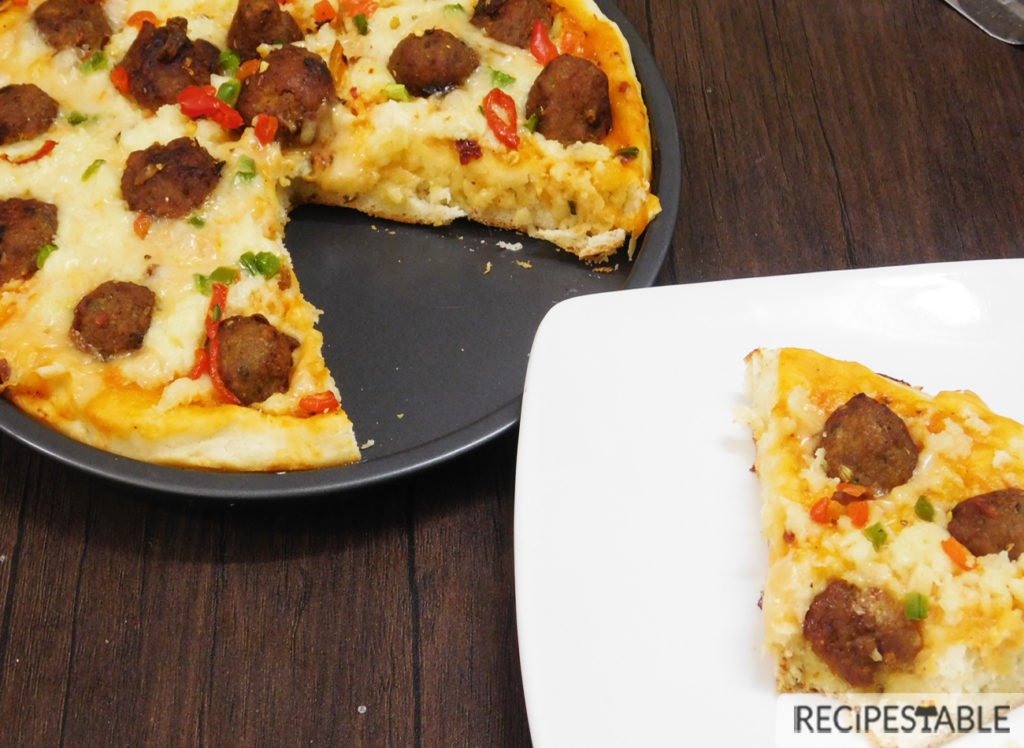 Pizza is always a winner in our house and cheesy meatballs are definitely comfort food around here, so we threw together a super easy, super cheesy meatball pizza. Make a big batch of meatballs and freeze in portions along with this fresh pizza dough recipe so you'll have meatball pizzas ready to go when you want them.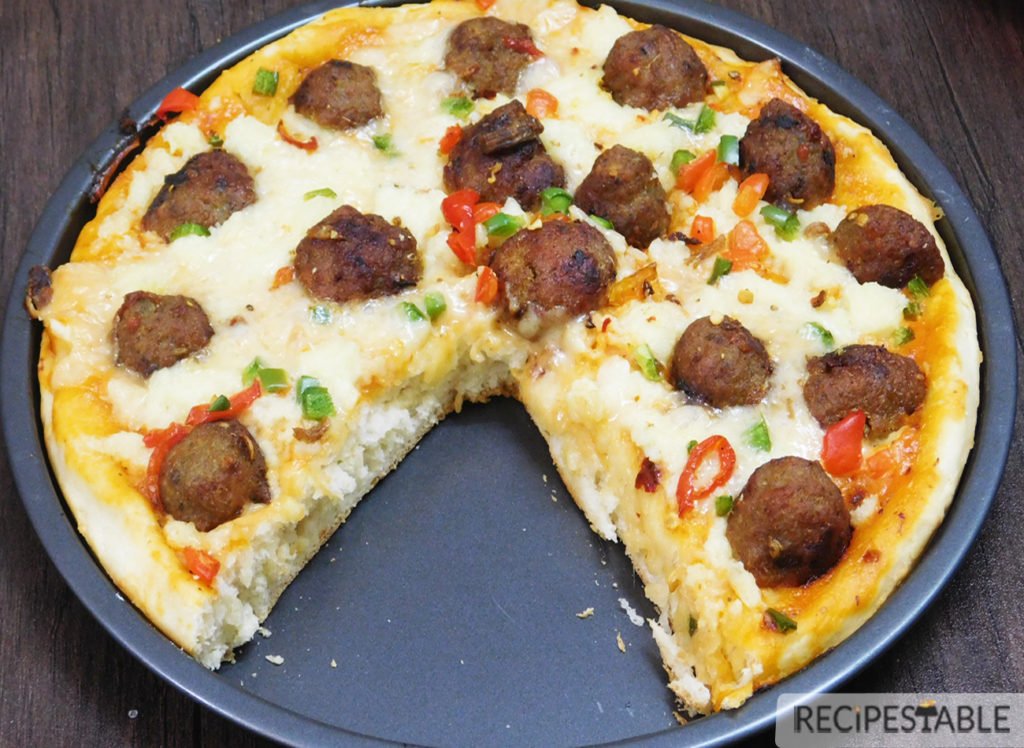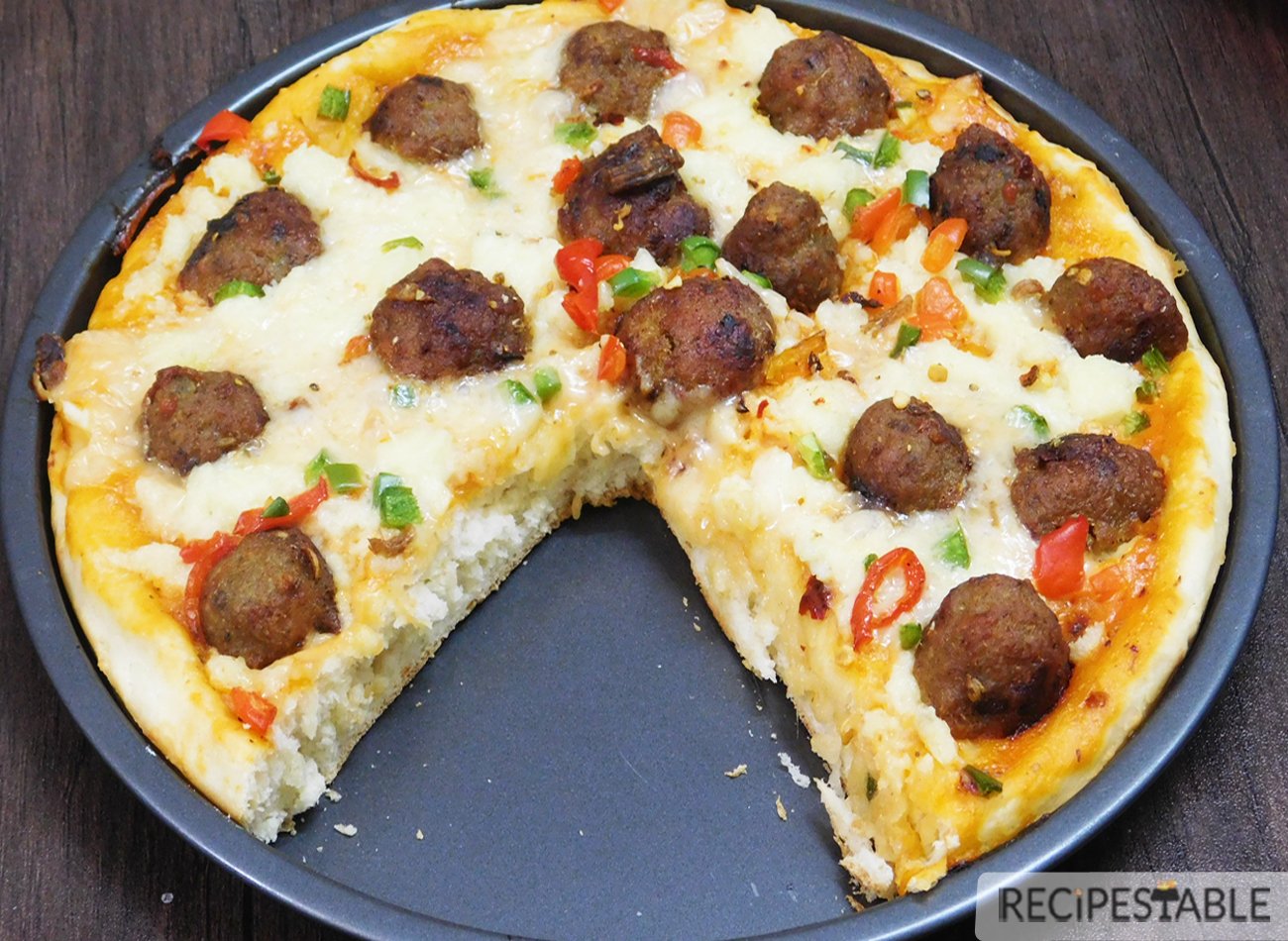 You can use frozen meatballs to save on time but you will have to adjust points accordingly, I prefer to make my own and I added a little pizza flare to mine.
How do you make Meatball Pizza?
1. A pizza pan is rubbed with a little bit of oil. Pizza dough is spread into the pan, poked with a fork. Then spread prepared sauce over it.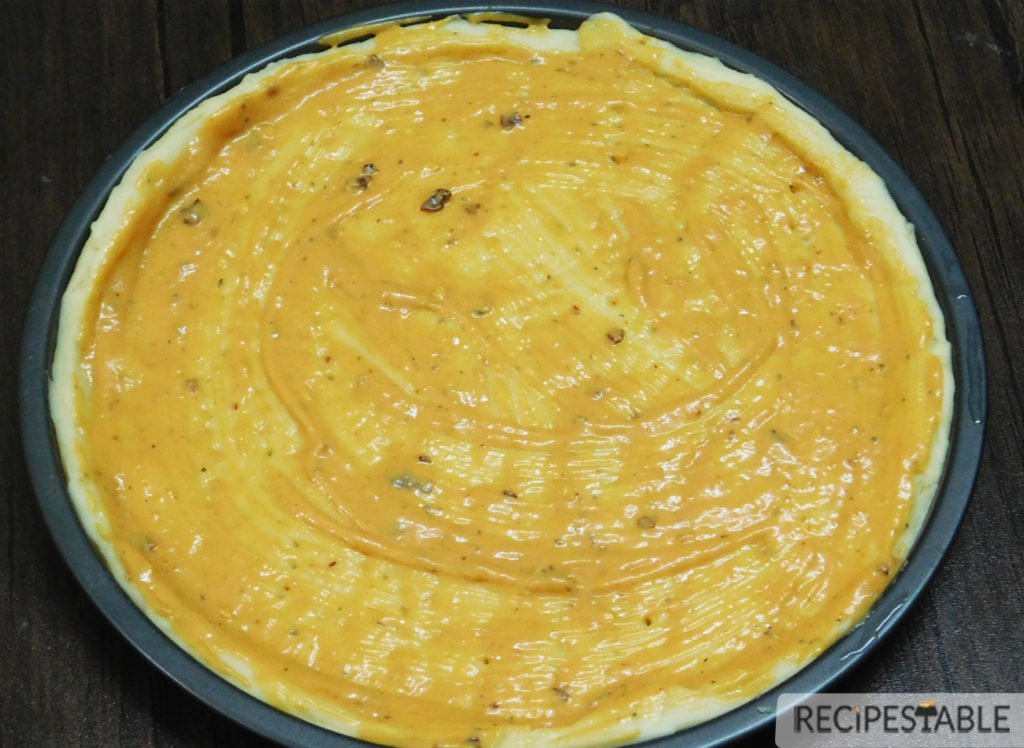 2. The topping is assembled by cooking the meatballs in a hot pan.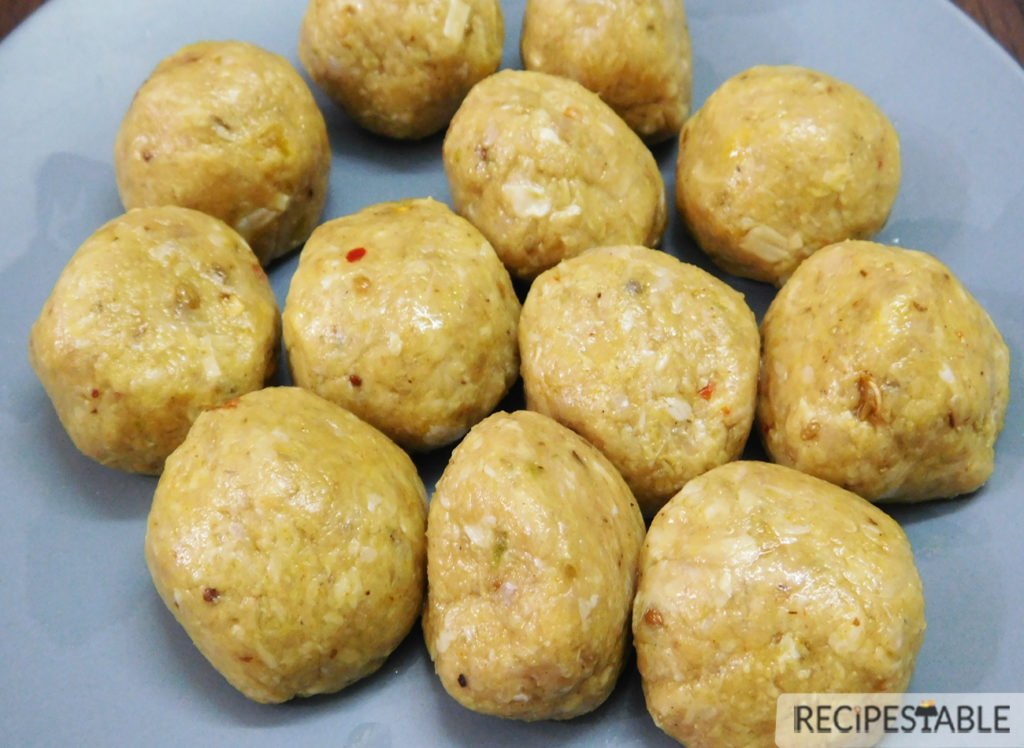 3. Then pizza dough is topped with the cheddar cheese, meatballs, red and green bell pepper and a generous portion of mozzarella cheese.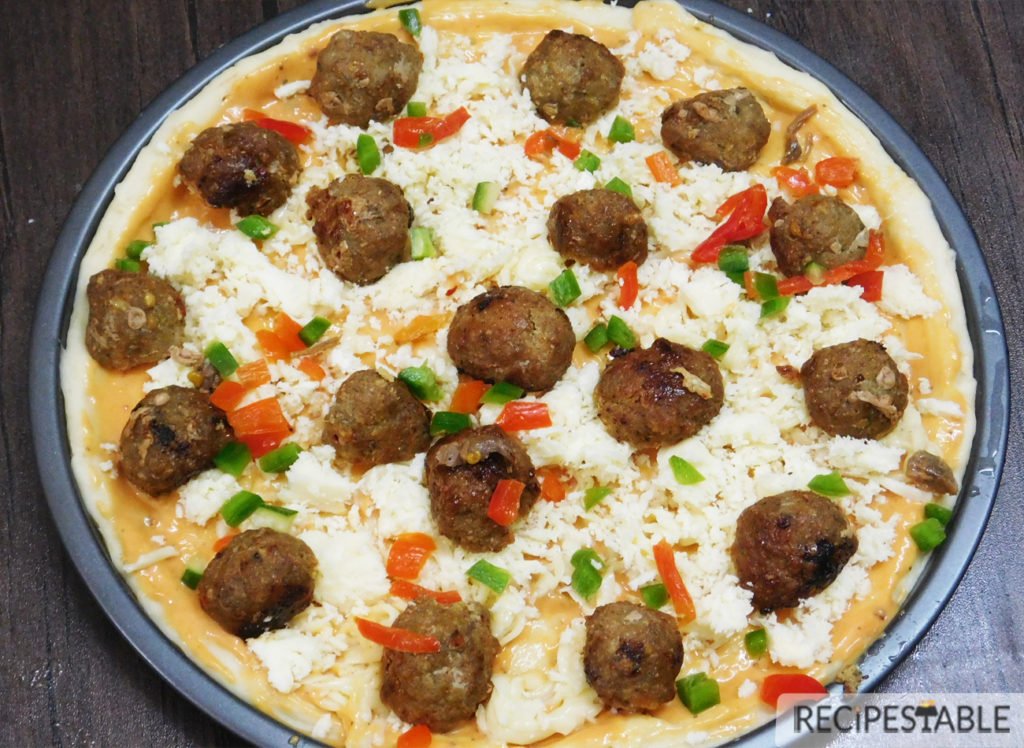 4. Then baked in the preheated oven until the cheese is golden and crust is cooked! Remove from the oven and cut into the wedges. ENJOY 🙂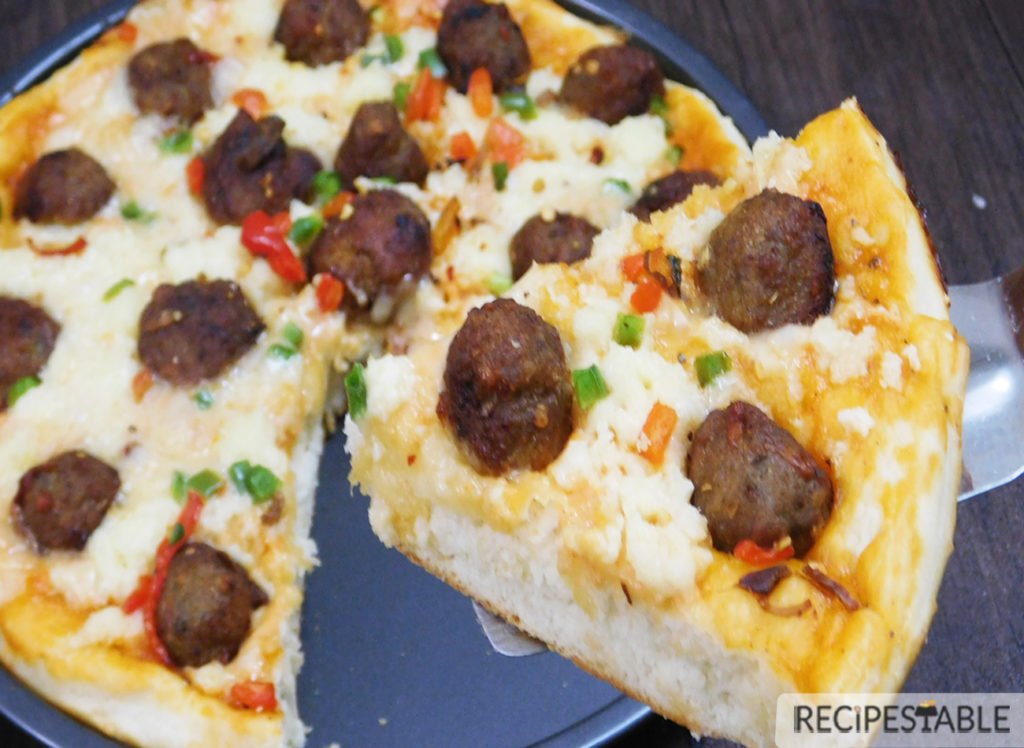 Where is the best place to buy Pizza dough?
Most markets have some sort of pizza dough that they sell.  You'll probably be able to find the kind of pizza dough in the can (not my favorite), and some will offer it in a little plastic baggie (probably a better product and likely more fresh).
I do have a tip for the best place to buy pizza dough.  Most pizza restaurants will likely be willing to sell you a ball of their pizza dough.  Just ask!  That's going to be your best bet for good pizza dough!
 You can also make your own. I have good recipe for Easy Pizza Dough.
What are the best toppings for pizza?
If you're a meat lover, you'll most likely enjoy some sort of meat lover's pizza like this Meatball Pizza!  BBQ Chicken Pizza is my another favorite. 
And my personal choice for pizza topping is Bell Peppers, Olives and Pineapple.  Chicken Chunks, Sausage are also popular pizza toppings ( but I don't like it that much).
Some people like to add olives, corn, goat cheese, spinach and more.  The possibilities are endless!
It's pretty likely that everyone in your family will enjoy this Meatball Pizza.  It's a nice, quick and easy dinner for those nights that are crazy!
Bismillah let's get started.
Check it out The Best Meatball Pizza Recipe and printable version here!!
The Best Meatball Pizza Recipe
Instead of ordering pizza tonight, try this perfectly pleasing meatball pizza recipe! Great for light dinner or go-with — so simple! So delish!
Ingredients
For The Meatballs:
500

gm chicken mince

1

bread slice

crust removed

1/3

cup

warm water

1

large egg white

lightly beaten

1

tsp

chopped garlic

1

small garlic clove

minced

1

tsp

onion powder

1

tbsp

fresh parsley

chopped

1

tbsp

fresh basil

chopped

1

tsp

red pepper

crushed

freshly ground black pepper to taste

salt to taste

oil for frying
For the Meatball Pizza:
1

pound

homemade pizza dough

for recipe click here

12

meatballs

halved and thawed

1/4

cup

pizza sauce

2

tbsp

mayonnaise

1

cup

Mozzarella Cheese

shredded

1/4

cup

cheddar cheese

1

small green pepper

chopped

1

small red pepper chopped

few fresh basil

optional

a pinch of crushed red pepper

to add a extra kick

and/or other toppings of your choice
Instructions
To Make The Meatballs:
In a bowl, combine the bread and water. Let stand, turning the bread occasionally to thoroughly moisten it, for 10 minutes.

Squeeze the bread gently to remove most of the water.

Discard the water. Tear the bread into 1-inch chunks and toss them into a large bowl.

Add the chicken mince, ginger, garlic, onion powder, parsley, basil, egg white, red pepper, 1/4 teaspoon salt, and black pepper to taste.

Mix thoroughly with moistened hands.

Shape the meat mixture into 12 mini balls.

Place the meatballs on the lined sheet, cover with plastic wrap, and refrigerate for at least 2 hours or up to overnight.

Now heat oil in a frying pan over medium heat and cook meatballs for 6-8 minutes or until golden, flip and cover the pan fry additional 5 minutes to cook from inside(make sure not to over cooked).

Remove meatballs from the oil and drain on kitchen paper.

Let the meatballs cool slightly and then cut each one in half.

Set aside.
To Prepare the Sauce:
In a small bowl, mix together the pizza sauce, mayonnaise, basil and a pinch of crushed red pepper. Set aside.
To Assemble The Meatball Pizza:
Preheat the oven at 180 degre C or 425 F.

Drizzle a round pizza pan or a rectangular baking sheet with olive oil or non-stick spray.

On lightly floured surface, roll out pizza dough into a 12-inch circle, with a rolling pin.

Spread bases evenly with prepared pizza sauce. Scatter evenly with cheddar cheese.

Top with meatballs halves and pressing lightly into base. Scatter evenly with Mozzarella cheese.

Top with chopped green and red bell pepper.

Bake 25 minutes or until the crust is crisp and golden and the cheese is hot and bubbly.

Let pizza sit for a few minutes then cut into 4 slices.

Delicious Meatball Pizza is ready to serve.

ENJOY 🙂
Some Useful Tips & Hints:
For make-ahead meatballs, you can make the meatballs up to the end of step 1 and freeze them layered between baking paper in an airtight container. Store them for up to 2 months. Defrost in the fridge overnight and continue recipe from step 2.
Chicken mince is easily available at major supermarkets or local butchers.
Use a store-bought pizza base for quicker version.
You can add your favorite herbs and spices for a spicy version.
Want more Pizza Inspiration?
Here are some other pizza recipes on my blog:
If you're looking for more easy, family friendly dinner ideas, you might also enjoy my The Best and Easiest Spaghetti Meatballs Recipe or this Butter Chicken Pasta,  Homemade Lamb Burgers and Keema Macaroni are also fun recipes for the family!
Put your own spin on it. And lemme know how it turns out and do take a few seconds to rate it! I would love to see your recreations so tag me on instagram @recipestable or Facebook (Recipestable) or on Twitter so I can see how lovely yours turn out.