There's nothing like Stuffed Chicken Buns: perfectly baked ,soft, warm buns stuffed with hot savory chicken filling. You'll amaze your family and friends with my easy to make "stuffed chicken buns recipe".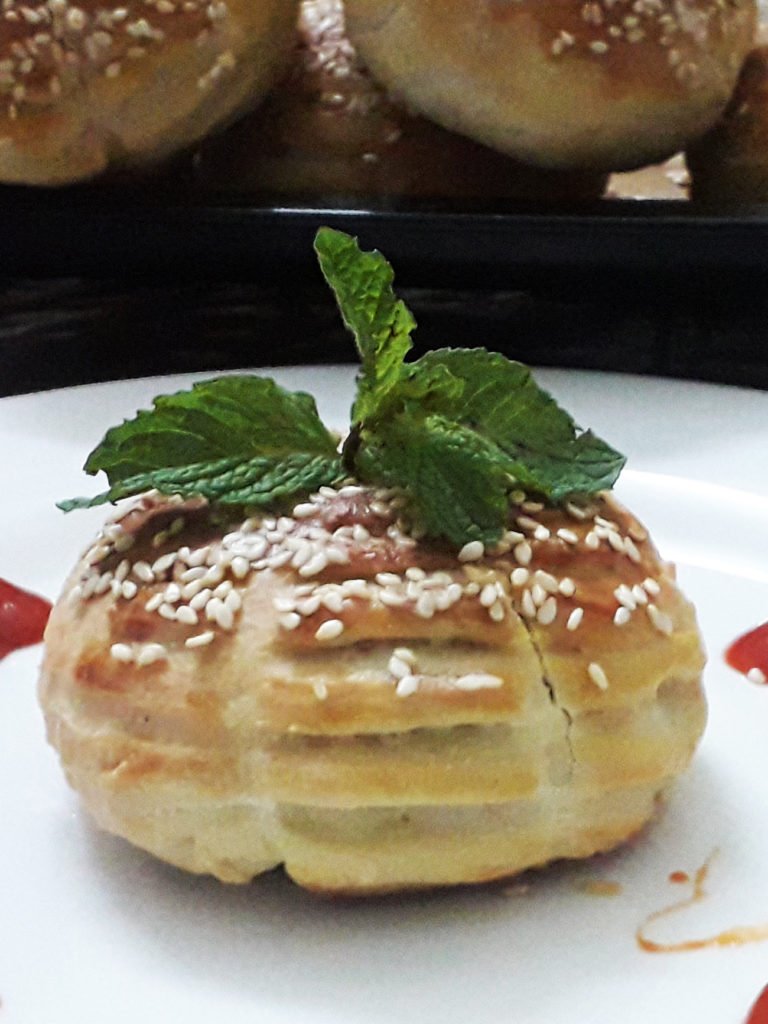 Breads & Buns are one of my favorite things to make and with this Stuffed Chicken Buns recipe it's really simple to make that you cannot go wrong with this and tastes delicious. They're so easy to make, and the possibilities are endless! You can stuffed with ground beef, mutton, chicken, cheese or mushrooms for a healthier option. Even if you don't eat meat, you can make a great-tasting veggie buns! Whatever it is you're craving, you can satisfy it with it a stuffed bun!
Why I like these Stuffed Chicken Buns?
I love all breads but I have a special soft corner for stuffed buns and bread rolls. It makes for sumptuous snacks and the possibilities are endless. Stuffed buns are my favorite gateway to finish up leftovers and clear out the refrigerator. Though I did not use leftovers for this one since I had guests over but feel free to go where your imagination takes you.
On the outside, these golden buns resemble ordinary dinner rolls. But one bite reveals the tasty filling inside! You know that saying: It's not what is outside but its what is inside that counts? Yeah, well its kind of the case here. Only that the outside is just as good. Soft and fluffy Stuffed Chicken buns with the most unexpected surprise ever!
Most scrumptious Cheesy Chicken filing!
I just love it when something looks so innocent and unassuming and then when you bite into it! Hits you with an unexpected but most pleasant burst of flavor.
Ingredients in Stuffed Chicken Buns Recipe?
For Dough: flour, dry milk powder, sugar, yeast, salt, egg, oil, warm milk
Creamy Chicken Filling: boiled chicken shredded, butter, onion, plain flour, milk, Cheddar Cheese, black pepper, red pepper, salt , few coriander and mint leaves.
For Buns Topping: Egg white, sesame seeds for sprinkling, melted butter for brushing
How to Bake Perfect Stuffed Chicken Buns every time!
Dough: These stuffed buns are an easy bake with only a single rise needed for the dough. That makes it a comparatively quicker snack. When making anything with yeast, including these buns, let the dough rise to the point the recipe says it should, e.g., "Let the dough rise till it's doubled in bulk." Rising times are only a guide; there are so many variables in yeast baking (how you knead the dough; what kind of yeast you use) that it's impossible to say that bread dough will ALWAYS double in bulk in a specific amount of time.
Stuffing: They prepared a cheesy chicken filling and stuff into these soft buns and life will be so much simpler for you. You can fill up your buns with lots of different things. I like to add some mushrooms and olives to mine, but you can use any kind of vegetables, meat stuffing you prefer! Pizza sauce would be another great addition. Or throw in some fresh herbs. Oh, the possibilities are endless!
Shaping: Shape them as per your liking and bake. For slightly smaller buns, divide the dough into 12 pieces instead of 10. Bake the buns for 12 to 15 minutes, instead of 15 to 18 minutes. And how about "slider buns" — about 3″ in diameter? Divide the dough into 24 pieces, and bake for 12 to 15 minutes. Proceed with the recipe as written.
Alternative way of Shaping: What's another easy way to shape buns, besides rolling them into balls and flattening? Gently deflate the dough, and form it into a smooth 8″ log. Slice the log as though you were slicing cinnamon buns. Gently pull each slice into a circle.
Brushing: Brushing buns with melted butter will give them a soft, light golden crust. Brushing with an egg-white wash (1 egg white beaten with 1/4 cup water) will give them a shinier, darker crust. For seeded buns, brush with the egg wash; it'll make the seeds adhere. And, feel free to add the extra yolk to the dough, reserving the white for the wash.
And serve with your favorite dips and sauces.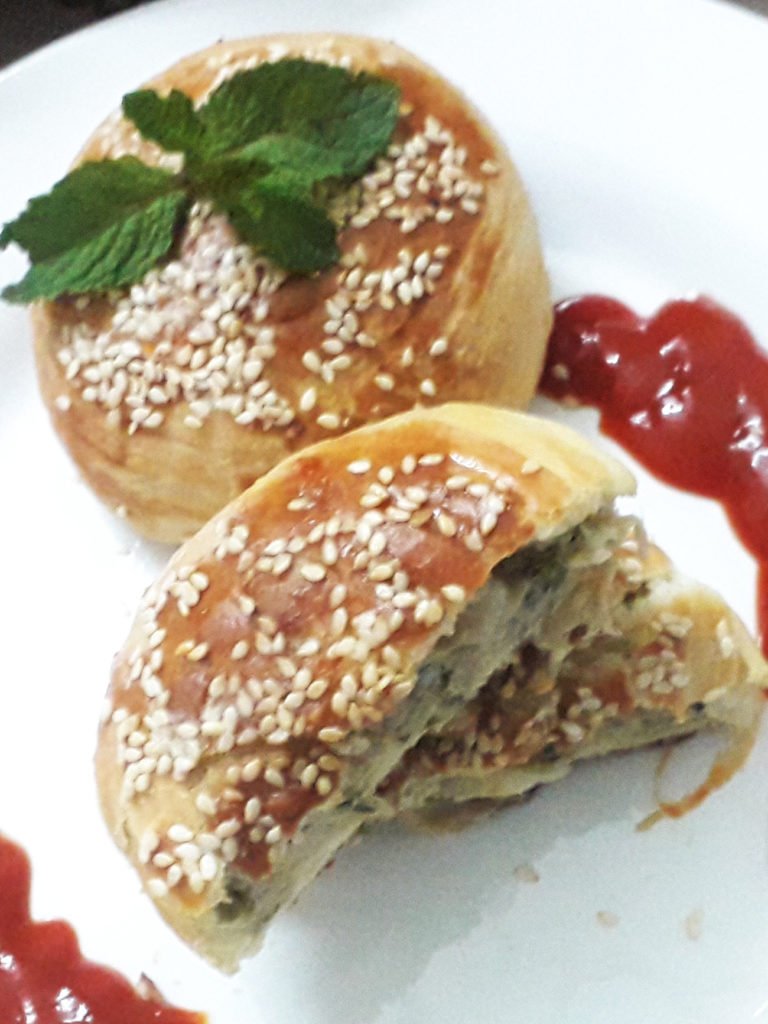 Double Up and Freeze a Batch:
I highly recommended freezing a batch of these after they've cooled so you can pop them into the oven for a fast, warm breakfast or as side for dinner that will delight your fellow tablemates.
Bismillah let's get started.
Check it out The Stuffed Chicken Buns Recipe and printable version here!!
Stuffed Chicken Buns Recipe
There's nothing like Stuffed Chicken Buns: perfectly baked ,soft, warm buns stuffed with hot savory chicken filling. Simply delicious and so hard to resist. You'll amaze your family and friends with my easy to make Stuffed Chicken Buns.
Ingredients
For Dough:
2-1/2

cup

flour

3

tbsp

dry milk powder

2

tbsp

sugar

2-1/4

teaspoon

yeast

1

teaspoon

salt

1

egg

1/2

cup

oil

1/2

cup

warm milk
For the filling:
1-1/2

cups

boiled chicken

shredded

3

tbsp

Butter or Oil

1

medium onion

finely chopped

1

tbsp

plain flour

maida

1

cup

Milk

1

cup

Cheddar Cheese

1

tsp

black pepper

crushed

1

tsp

red pepper

crushed

Salt to taste

few coriander and mint leaves

chopped
For Buns Topping
1

Egg white

for egg wash

White sesame seeds for sprinkling

2

tbsp

melted butter

for brushing
Instructions
To Make The Dough:
Sieve the flour, salt and dry milk powder in a large mixing bowl. Add sugar, instant yeast, and milk powder then add in an egg, oil and warm milk. Knead almost 10 minutes or till it forms a soft smooth dough. If required add a few splashes more of warm milk.

Place the dough in a greased bowl and apply oil on the dough. Cover with a damp towel and keep in a warm corner of your kitchen to rise for 1 hour or till the dough is double in volume.

Punch down the dough lightly using your palm and divide them equally.
To Make The Chicken Filling:
Meanwhile dough is rising, prepare your buns filling. Melt butter in a pan over medium heat.

Saute onion in butter until translucent. Now add flour and cook for 2-3 minutes or till it gives out a nice aroma. Now add milk and cook for 4-5 minutes or until it turned into nice creamy thickened texture.

Add the shredded chicken and stir well. Season with salt, red pepper and black pepper.

Sprinkle fresh coriander leaves and 1/2 cup cheddar cheese.Stir until well combined and remove from the heat. Let it cool completely.
To Assemble the Stuffed Chicken Buns:
Preheat the oven at 180 degree C for 15 minutes before baking.

Once the dough has risen, take a small portion of the dough and flatten it on Spider Strainer. Place a spoonful of the chicken stuffing in the center, top off with a little cheddar cheese and pull the edges together to seal and roll the dough into a smooth ball.

Place the dough ball with seam side down on a greased baking tray. Likewise shape all the buns with stuffing and place on the baking tray an inch apart from each other.

Now brush the top of all buns with egg wash and sprinkle sesame seeds on top. Cover with a cloth and let it prove for another 20 minutes.

Bake in a preheated oven at 180°C for 20 minutes. Remove from the oven and brush the buns top with butter (it will gives them soft texture). Delicious Stuffed Chicken Buns are ready to serve. ENJOY 🙂
Other versions of this Stuffed Buns:
I've shared some of the tastiest buns recipes out there for you to enjoy…check them out!
Want more Bread Inspiration?
Here are some other Bread or Buns recipes on my blog:
Pin it For Later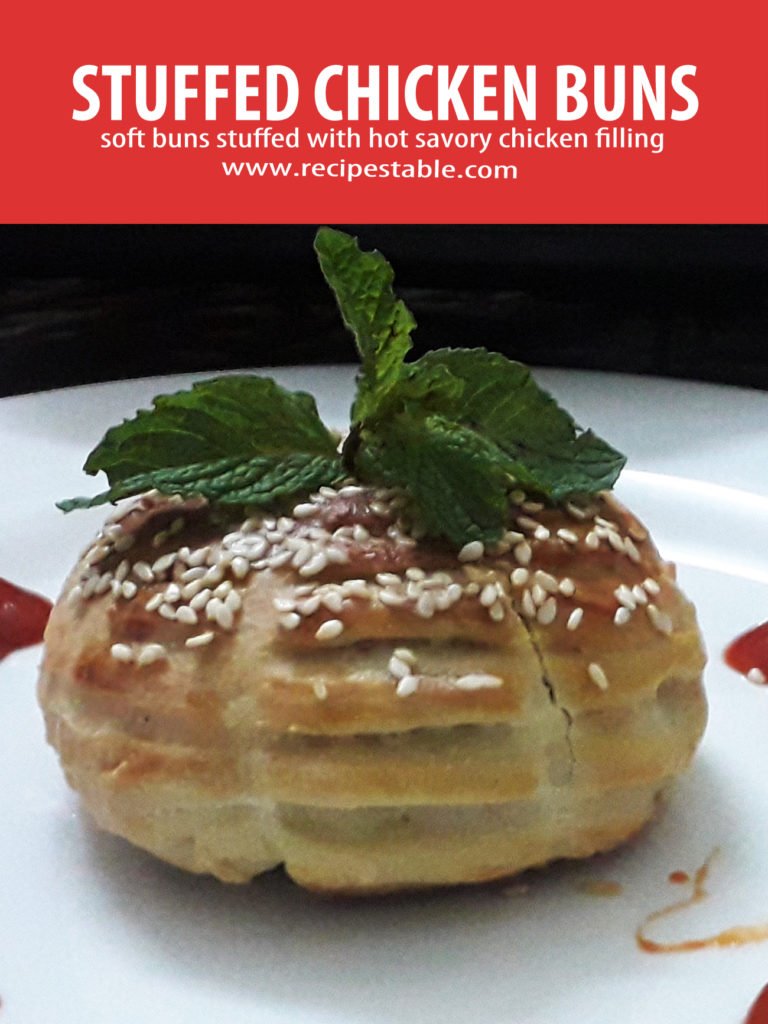 Put your own spin on it. And lemme know how it turns out and do take a few seconds to rate it! I would love to see your recreations so tag me on instagram @recipestable or Facebook (Recipestable) or on Twitter so I can see how lovely yours turn out.