Every day the same question pops up "What to make for Lunch today?" and when the same question is asked on a weekend the response has to be something that's not the usual and really delicious.
What better way to spice up the weekend lunch than with a Kebab Paratha Rolls stuffed with flavorful hot and spicy sauces and bright colorful vegetables pickles.
It's the age of one pot meal and who says one pot meal has to be a rice dish. It can be bread based dish as well. I believe wraps or rolls loaded with meat, kebabs and veggies also come in the genre of one pot meal and why not, bread gives us starch while veggies help bring a balance diet while meat gives us protein.
The best thing about it is, that its a wholesome meal and can be prepared with leftover kebab's too. Its as simple as assembling it all together (if that makes sense).
Ingredients in Hot and Spicy Kebab Paratha Rolls
The ingredients you need to make this Hot and Spicy Kebab Paratha Rolls are:
For Kebabs: meat, onion, ginger, green chilies, fresh coriander, red chili powder, cumin powder, coriander powder, all spices powder, salt, butter for busting
For Parathas:  whole wheat flour, white flour, Salt, clarified butter, water for kneading and black seeds (optional)
For Topping & Stuffing: mayo garlic sauce, mint chutney, pickle cucumber, onion, carrot, green chili, few salad leaves, red chili flakes (optional)
How to make Hot and Spicy Kebab Paratha Rollso:
Hot and Spicy Kebab Paratha Rolls are straight forward to make. Prepared kebabs then make paratha's and stuff with kebabs, sauce and topping.
Pretty simple!!
For this recipe, I've prepared the homemade Paratha's but you can use store bought frozen paratha in case you don't feel like making your own and keeping it all quick and simple.
You can pack them and stuff your lunch box too making it a totally mess free meal for yourself. As with all wraps, you can use filling of your choice. For me it had to be this kebab paratha rolls, with some garlic sauce, minty yogurt chutney and  colorful pickle that were wrapped in the paratha rolls and gave those hot, zingy and spicy flavors that were sure to tickle those taste buds! 
Do try this recipe, these Hot and Spicy Kebab Paratha Rolls can become your ultimate comfort and nutritious food.
Bismillah, Let's get started!
Check it out the Hot and Spicy Kebab Paratha Rolls recipe and printable version below.
Pin it For Later: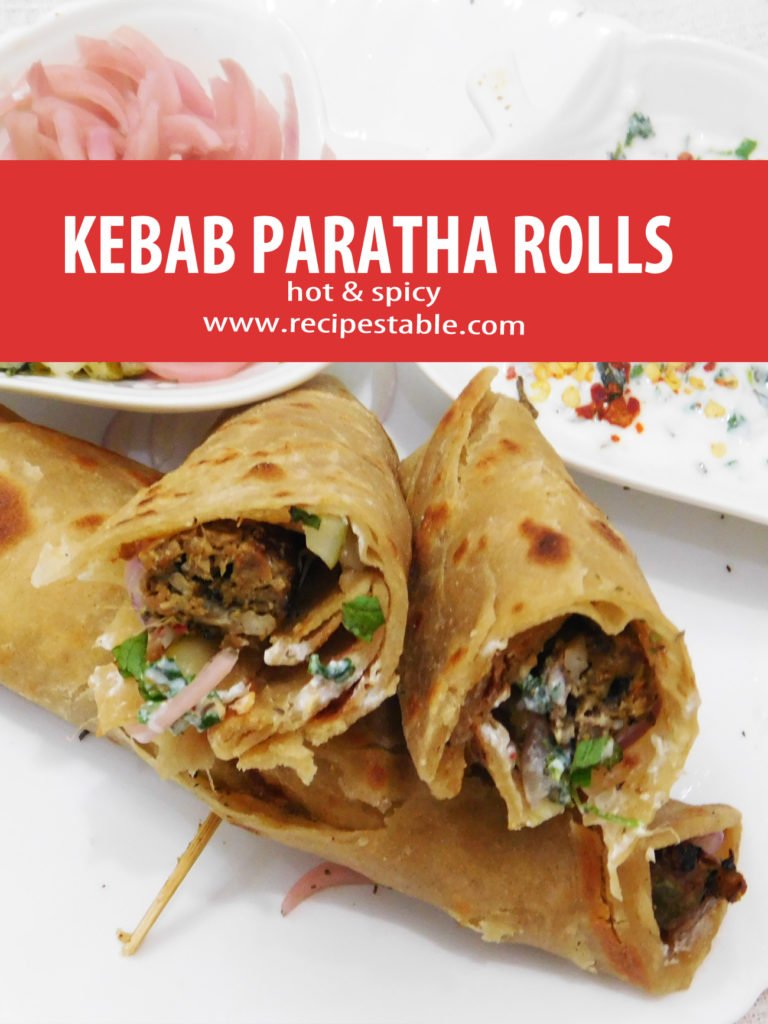 I have also posted Shami Kabab Paratha Rolls and Chicken Paratha Rolls which are another easiest & tastiest version of making Paratha Rolls at home. Do check it out as well. It's finger lickin' good. You'll be coming back for more.
---
Put your own spin on it. And lemme know how it turns out. Post a photo on Facebook (Recipestable) or on Twitter so I can see how lovely yours turn out.
Happy Lunch Making!!
If you like this post, Please Subscribe to my blog and let me know your feedback by commenting below.. I have lots more recipes to share with you.