Tags
Budget Friendly Recipes
Tag: Budget Friendly Recipes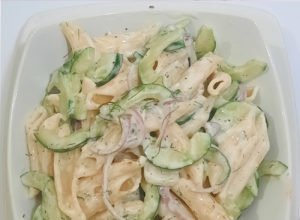 This quick and easy Creamy Cucumber Pasta Salad combines a creamy dressing - like a mixture of Greek yogurt or sour cream - with freshly sliced cucumbers and red onions along with plenty of chopped dill! It's the perfect unique pasta salad recipe for your next backyard barbecue.
Loaded with veggies and flavorful chicken, warm spices like cumin, cinnamon, nutmeg and mace and the heat of green chilies this Mix Vegetable Chicken Pulao is a delight to the taste buds in every bite!
Who needs takeout when homemade tastes better and you're in control of the ingredients. Next time when you crave Chinese food, instead of take-out, make this quick, easy and Incredibly delicious hot and sour noodles. Perfect comfort food and a a hearty meal, full of veggies, egg noodles and fried chicken, that's ready in under 30 minutes!
What better way to spice up the weekend lunch than with a Kebab Paratha Rolls stuffed with flavorful hot and spicy sauces and bright colorful vegetables pickles.