Jump to Recipe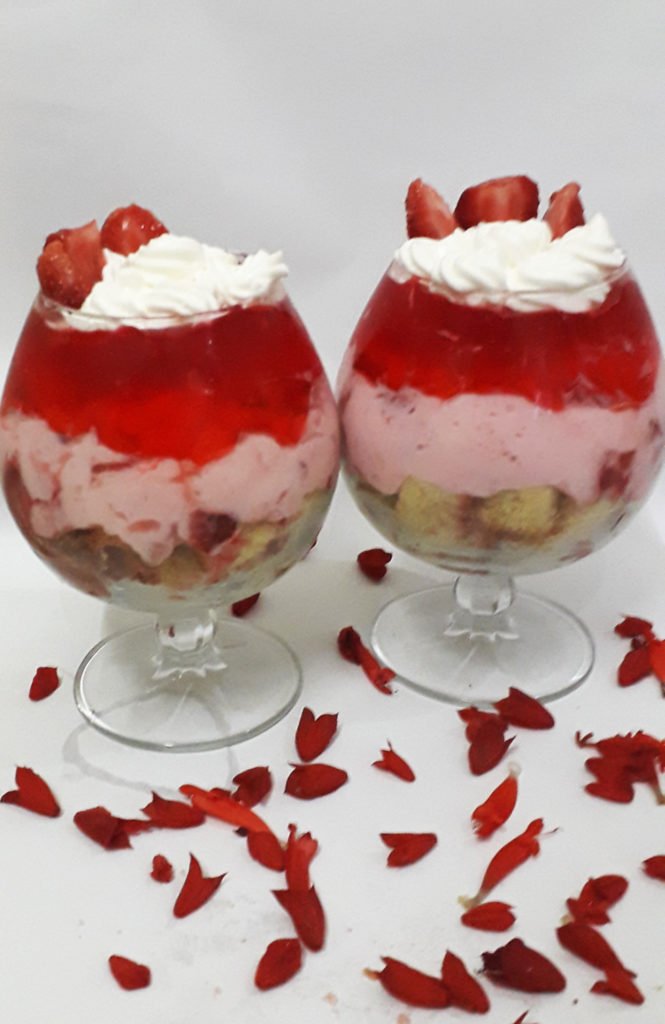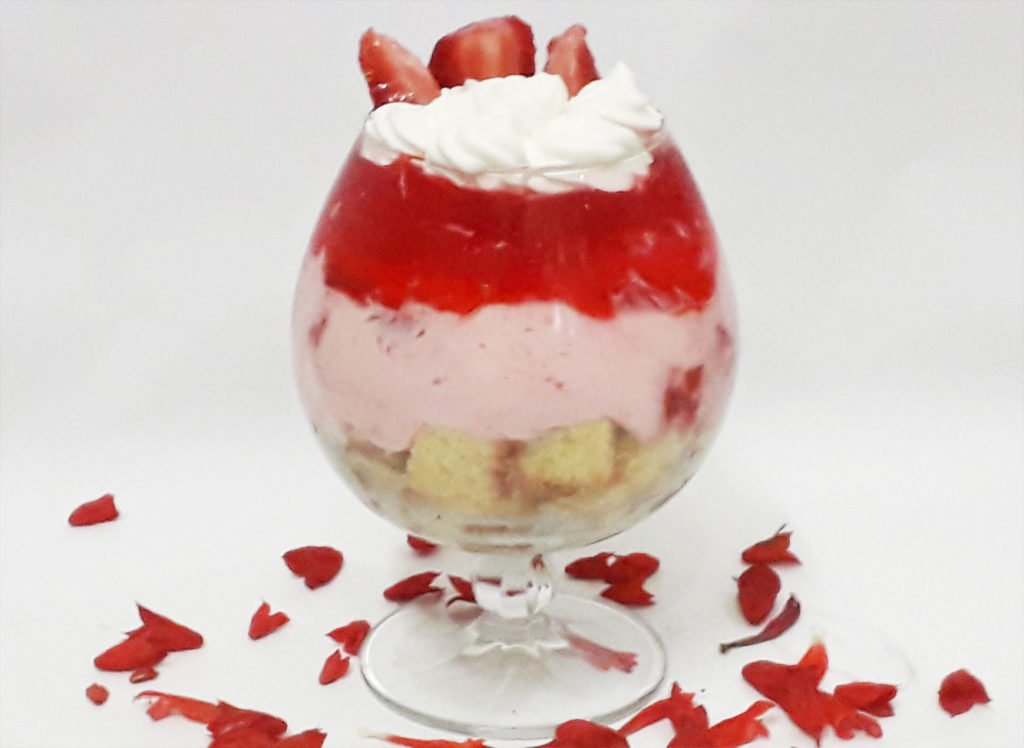 Ingredients in Strawberry Trifle:
If you're heading to the store, these are the ingredients to add to your list:
350 gm plain cake or pound cake
good quality strawberry jam
400 gm strawberries , sliced
1 tbsp caster sugar
500 gm pot of good quality strawberry custard
1 cup strawberry flavored jelly
1 cup fresh cream, lightly whipped
250 ml whipped cream, (approximately 1 cup)
strawberry sauce, optional (for topping)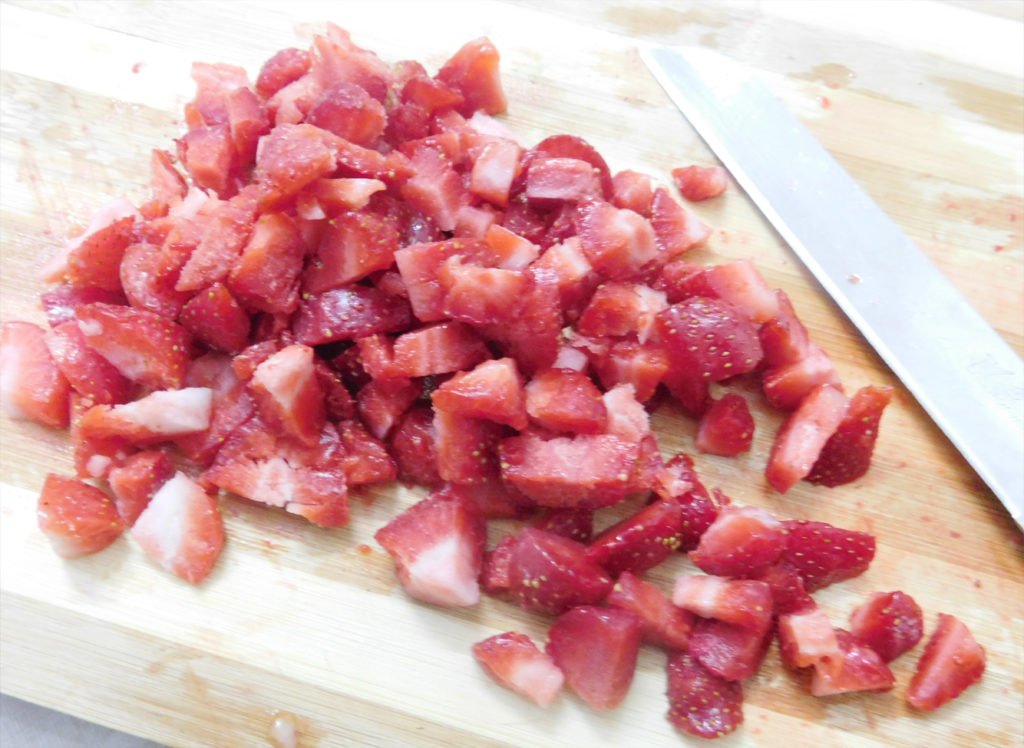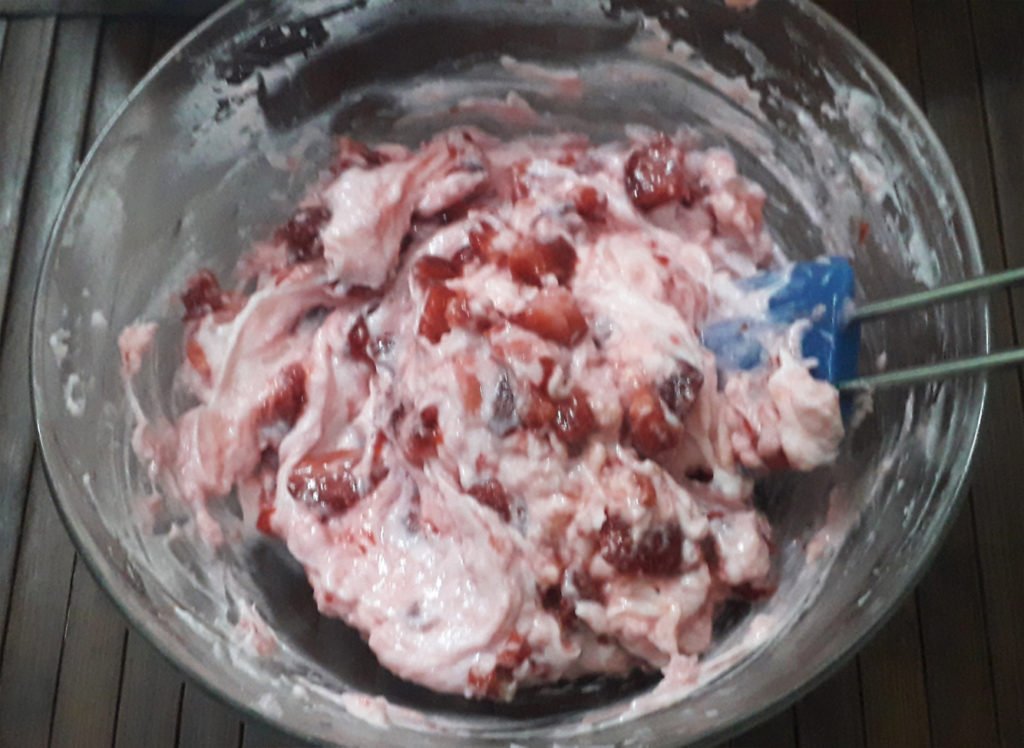 Can Trifle be Frozen?
No, I wouldn't recommend it.
How Long will Trifle will Keep?
My trifle keeps well for 3-4 days. Always keep it refrigerated.
How many does this trifle feed?
It depends, but my guess is it would feed approximately 6-8 people.
Strawberry Trifle Recipe
Ingredients
350

gm plain cake

good quality strawberry jam

400

gm strawberries

sliced

1

tbsp

caster sugar

500

gm pot of good quality strawberry custard

1

cup

strawberry flavored jelly

1

cup

fresh cream

lightly whipped

250

ml

whipped cream

(approximately 1 cup)

strawberry sauce

optional (for topping)
Instructions
Make your strawberry jelly in advance according to packet instructions. Pour it into a small rectangle or square baking tin, so it's roughly 1 inch high. Leave it in the fridge to set.

Begin by prepping everything. Chop your strawberries in half and sprinkle the sugar over the strawberries.

Slice the cake and sandwich the slices together with jam. Cut into 1 inch squares.

In a bowl, mix together the chilled custard and fresh cream. Fold into strawberries.

To assemble, divide the cake between 6 glasses and sprinkle a little strawberry sauce over each.

Spoon over the creamy strawberry custard then top each with a layer of jelly and a layer of whipped cream.

Decorate with strawberries.Enjoy!
Notes
You can use any plain store bought cake (that's not frosted) like sponge cake, pound cake etc.
You can use strawberry juice or another liquid if you like.
Still have Strawberry Leftovers?
Here are a bunch more strawberry dessert recipes using fresh strawberries that you might also like to try:
Want more Sweet Tooth Inspiration?
Here are some other dessert recipes on my blog:
Put your own spin on it. And lemme know how it turns out and do take a few seconds to rate it! I would love to see your recreations so tag me on instagram @recipestable or Facebook (Recipestable) or on Twitter so I can see how lovely yours turn out.