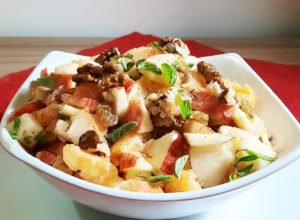 A light, refreshing Apple and Orange Salad loaded with apples, oranges, raisins and walnuts with a flavorful dressing – perfect as an appetizer or entree! The flavors of the apples, oranges, walnuts and raisins are so clean and fresh. It never fails to please.
Orange Lassi Orange lassi is an Indian and Pakistani yogurt-based drink, refreshing and satisfying, especially with spicy dishes. This Orange Lassi is prepared with orange, yogurt,...
Orange Fiesta Orange Fiesta is a cool, refreshing drink to serve at Parties. This drink is made with orange juice, soda water, mint, and lemon...
Spicy Orange Beef made with juicy and tender slices of steak coated in an orange garlic-ginger sauce in just 30 minutes! Hints of orange and a touch of heat dress up a classic combination. This stir-fry is a good weekday dinner recipe.